Woohoo! WowPursuits is one year old! Happy Blogivesary!
This definitely calls for a celebration and what better way to celebrate this milestone than to publish our very first anniversary post. Yay!
Frankly, at this stage, we lack sufficient historical data that would make website information (from Google analytics) like page views per month, user engagement and traffic growth a meaningful endeavour.
For now, it probably makes more sense to talk about our blogging experience — sort of a behind-the-scene look at what it's like to start a blog and run it for a year. And more importantly, what are the key lessons we have learnt so far.
I've chosen to do it in a Q&A format and broken it down into the following questions:
1. How has your blog been faring so far?
This is probably the first question that will pop into your head. Well, if I had to "grade" our progress so far, I'll do it based on the "rocket analogy". And it goes something like this:
Stage 1: The rocket has been built, but the engine has yet to ignite. All is silent. There's barely any website traffic, if at all.
Stage 2 : We have ignition and the engine sputters and rumbles. At least we don't just hear crickets anymore. Web traffic is slowly building up but still hovering at low levels. No lift-off yet.
Stage 3: We have lift-off! The rocket slowly but steadily leaves the launch pad. Yes, finally! Web traffic is steadily trending upwards and we have way more than just a few daily website visitors.
Stage 4: The rocket leaves the launch pad safely and begins to make its climb. Web traffic shoots up. Time to upgrade our web hosting plan.
Stage 5: The rocket is far up in the sky and ready to enter space. Web traffic is to the moon! This is where every blogger hopes to get to.
So where is WowPursuits after one year? The answer is: Stage 2.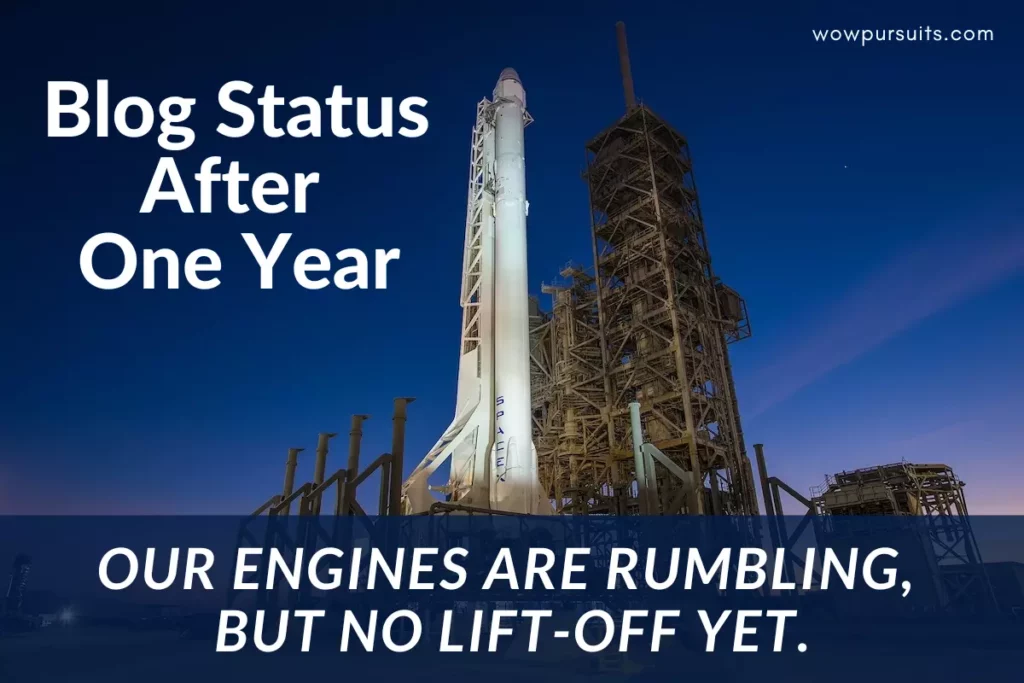 Here's a summary of our website's progress so far (based on our WordPress statistics):
| Description | Quantity |
| --- | --- |
| Number of pages | 10 |
| Number of blog posts published | 80 |
| Number of blog images used | 498 |
| Number of blog comments/replies | 32 |
| Site Health Status | Good (100%) |
Our original goal was to publish at least 90 blog articles in our first year, but it was later revised downwards to 80 for good reason — we decided to allocate time to building a social media presence ahead of schedule.
I know there are veteran bloggers out there who would advise against starting a social media account so early (it's simply not a priority at the outset). Which by the way is good advice. The reason? It distracts you from doing what is most important when you start a blog — creating and producing quality content for your blog.
2. Why did you start social media ahead of schedule?
The reason was actually quite simple. We needed a morale booster and I believe many bloggers can empathise with this: it doesn't feel good writing to a void. I mean, what's the point of publishing article after article when no one reads it? We needed a psychology win, even if it was a small one.
We were already expecting this before launching our blog and knew it would take an extended period of time before we had any kind of an audience. Search engine optimisation (SEO) experts commonly refer to this as the "Google Sandbox". The problem was we didn't know exactly how long this period would last for.
Side note: For the uninitiated, you may be wondering what on earth is a "Google Sandbox"? According to Ahref, the term "Google Sandbox" is used by some SEO experts to refer to the situation where new websites are ranked poorly in Google's search engine results pages or SERPs (even after doing all the right things for SEO). The idea behind this is that Google may place newly created websites in a "sandbox" for a certain period of time to assess their quality and prevent spam (think of it as probation for newbie websites). Although there is no hard evidence that Google uses such a sandbox, it can be construed as the natural process of new websites getting established before showing up on SERPs.1
So I did a little research (scouring forums on blogging — I wanted first-hand accounts) and found out that some bloggers got pretty much no traffic even after one year of blogging. Some apparently had success after one month (I'm a little skeptical of this though, it could've been an aged domain?). Some took a few months. Some more than a few months. Nothing concrete came out of it.
My conclusion: there was clearly no fixed period for the "Google Sandbox", but the average (from general consensus) seemed to be around 6 to 12 months.
Thus, we took a view and gave ourselves 6 months. If still nothing, then we were taking this "Google Sandbox" thingy into our own hands.
3. How long were you in the "Google Sandbox" for?
Then it came to pass. In 6 months, we had already published about 60 blog articles, but we were still in no man's land. We couldn't just sit back and do nothing. Our impulse was to take action.
So Mrs Wow started engaging on 𝕏 (fka Twitter) in May 2023 which resulted in a traffic surge from our following on 𝕏 (currently 1,272 followers and counting). Yess! We were finally no longer writing to a void. (For a candid recount of our social media journey thus far, you must read Mrs Wow's article My 𝕏 Journey: An Unfiltered Account.)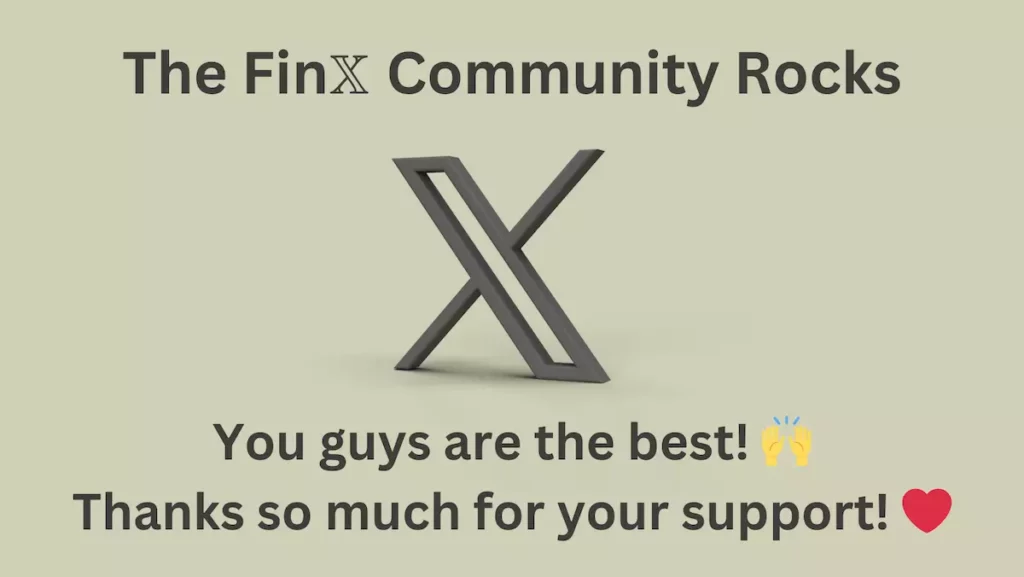 Our "Google Sandbox" period lasted for about 7 months. Impressions, clicks and average ranking from Google Search took a turn and started increasing noticeably. Although it's just the beginning, we're thankful to be out of that start-up phase.
Today, Google has indexed more than 120 pages of our website and our average ranking has improved substantially with more than a hand-full of queries ranked in the single digit. We couldn't be happier.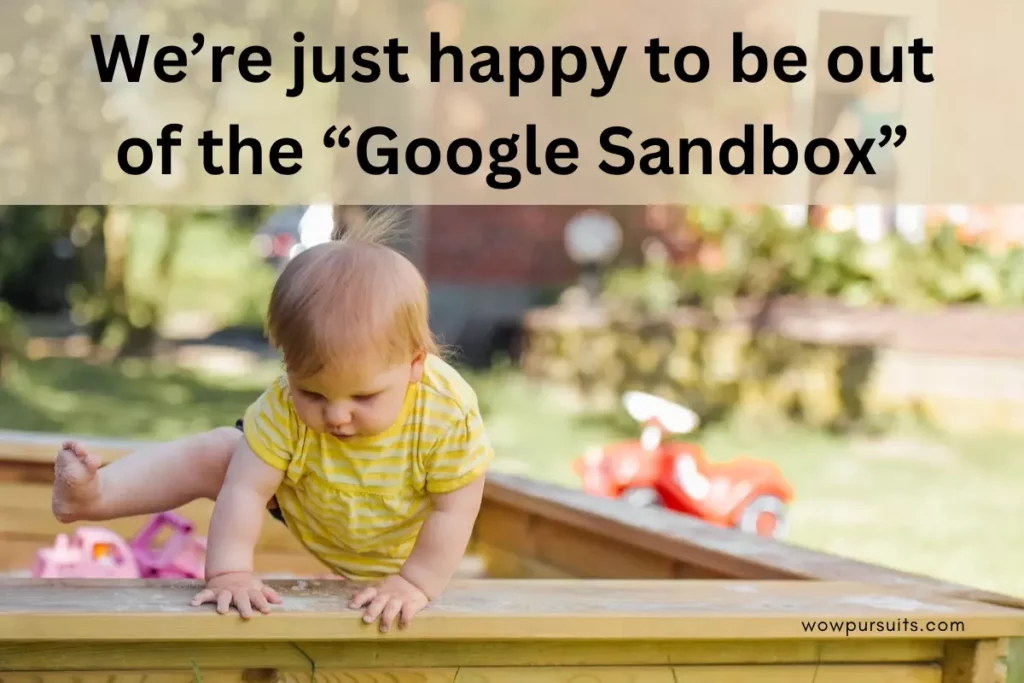 4. Have you made much progress with SEO so far?
Prior to WowPursuits, I built and launched the website (more than 10 years ago) for our previous business. The website was highly successful and accounted for more than 70% of our sales revenue. At the peak of our business, all our classes were full and we had a two-year waitlist.
What I've learnt is: what worked 10 years ago, no longer works today — I'm specifically referring to SEO. There have been countless updates to the Google search algorithm over the years. SEO has evolved a fair bit and will continue to do so.
In my opinion, SEO is becoming more of an art than a science. At present, SEO is essentially about E-E-A-T (Experience, Expertise, Authoritativeness and Trustworthiness) and creating "helpful content". It's no longer just about keyword research and optimisation. On top of that, AI will likely play a bigger role in time to come.
For On-page SEO (website structure, interlinking, page format, page speed, topical authority, etc.), we've done whatever we can to optimise and will continue to do so. For Off-page SEO (backlinks, social media signals, etc.), it's pretty much organic at the moment.
So how are we doing on SEO so far? Well, I think a simple way to express it is by showing you a screenshot of our PageSpeed Insights report for mobile (left) and desktop (right):

Note: If you've never used PageSpeed before, you should be aware that the results vary from page to page. I've picked our top performing page to feature. For desktop performance, most of our pages are usually in the high 90s. For mobile performance, most pages range between the high 70s to 80s. According to Simplilearn, a score of more than 85 indicates a user-friendly website and increases the possibility of ranking higher in SERPs.2
PageSpeed though important is just a small piece of the puzzle. Regardless, it does give you an indication if you're on the right track or not. At the moment, I'm confident that we're on top of things, at least where On-page SEO is concerned. With SERPs, it'll take a lot more time and is still work in progress.
5. Have you made any money from your blog?
Nope! Not one cent! Nada!
The thing is, we started this blog as a retirement hobby. Something that Mrs Wow and I can do together. Something that keeps our minds active. Something that gives us a great sense of satisfaction. Plus… it has the potential to generate income down the road.
Right now, we're not planning to sell anything on our blog. We merely hope to grow traffic organically so that we can reach out to more people.
If things do pan out in the future, all we're thinking of is placing a few ads on our website (nothing too intrusive) to cover the operational cost. That's it.
Frankly, the running cost of a blogging website is relatively low, so there's no pressure to monetise, if at all. Here's our monthly breakdown (including goods and services tax):
| No. | Recurring Expenses | Monthly USD |
| --- | --- | --- |
| 1 | Web & Email Cloud Hosting | $16.74 |
| 2 | Domain Name | $0.86 |
| 3 | 𝕏 Premium (Blue Check Verification) | $6.95 |
| | | $24.55 |
Blogging as a hobby really doesn't cost that much monetarily. That's the beauty of it. You could be up and running for easily under $20 per month, so long as you're willing to learn and do everything yourself (like how Mrs Wow and I do it). What it will cost you dearly is your time and labour of love.
Do note that if you are exploring blogging as a potential side hustle (i.e. as a business), you can't just rely solely on organic search traffic. You'll also need to actively generate inorganic traffic/leads via Google Ads, social media campaigns, YouTubing, podcasting, guest posting, etc. to get your name or brand out there. Like any other business, it will take time and sweat to build.
Check out: Reality Check: My Early Retirement is a Sham!
Whatever the case, organic growth takes time — perseverance is key. Just like with investing, blogging is a marathon, not a sprint. We fully understand this and intend to continue churning out quality articles for years to come.
To find out how everything turns out, do stay tuned. We truly appreciate your continued readership. Thanks heaps for sticking around!
Source:
SEO Glossary — What is the Google Sandbox?: https://ahrefs.com/seo/glossary/google-sandbox
How to Use Google PageSpeed Insights?: https://www.simplilearn.com/how-to-use-google-pagespeed-insights-article
You may also like: Beyond 9-5: Discover the 7 Income Streams for Lasting Wealth | Multiple Income Streams: Weighing the Pros and Cons | Running a Business as a Married Couple: How We Made It Work