This is the first instalment of a two-part series on the cost of living in Singapore, the most expensive city in the world. Part 1 looks at the cost of housing while Part 2 examines the cost of transport and food.
Although we're a Singapore-based blog, many of our readers are from the US, Germany, Australia, Canada and the UK. 
If you're not familiar with Singapore, I promise you that you'll find this article interesting and highly informative as I'll be sharing how we combat the high cost of living here, specifically in the area of housing.
1. Singapore: Facts and Figures
Let me start with a few key facts and figures:
1️⃣ Singapore is one of the three city-states in the world (the other two are Monaco and Vatican City). At 710 square kilometres, it's about 0.9 times the size of New York City.
2️⃣ Last year (2022), Singapore was ranked the most expensive city in the world, together with New York, by the Economist Intelligence Unit (EIU). It was the eighth time in 10 years that the Southeast Asian country topped the list.1
3️⃣ Earlier this year, Singapore took the top spot as the world's most expensive city for luxury living in Julius Baer's Global Wealth and Lifestyle report.2
4️⃣ Singapore's private homes are now the most expensive in Asia-Pacific with a median price of US$1.2 million, according to a report by Urban Land Institute (ULI) Asia Pacific Centre for Housing.3
5️⃣ Singapore is the most expensive country in the world to own cars. On average, cars in the city-state cost five times more than they do in the US.4
6️⃣ More than 90% of Singapore's food supply is imported. Only about 1% of Singapore's land is set aside for agricultural use.5
7️⃣ Singapore is currently the third-richest country in the world according to Global Finance Magazine, which based its study on data from the International Monetary Fund (IMF).6
When you read the above, it does sound like the cost of living in Singapore is alarmingly high. Well… it is, especially for expatriates who rent and eat out often. Locals certainly feel the squeeze too, but much is dependent on one's way of living.
Instead of fretting over escalating costs, Mr Wow and I choose to focus on what we can control — our financial and lifestyle choices. Housing, the biggest expense for most households, is one of them.
2. Cost of Housing in Singapore
Despite being among the world's most expensive property markets, land-scarce Singapore has high rates of homeownership at 89.3% in 2022. This is mainly because the country has an extremely successful public housing policy, with more than one million flats spread across the island.
Yes… I'm talking about public housing. In 2022, 77% of Singapore citizens and permanent residents lived in high-rise flats built by the Housing and Development Board (HDB), a statutory board under the Ministry of National Development. This effectively makes the government the biggest property developer in the country.
I know public housing has a poor reputation in many parts of the world. In Singapore however, HDB flats are well-designed apartments located in vibrant towns, with a range of commercial, recreational and social amenities.
These flats come in various sizes and are sold on a 99-year leasehold. Housing grants are available to certain groups of people (e.g. couples applying for the first time). Once the flats have passed the minimum occupation period of five years, they can be rented out or sold on the open market. This is to prevent people from flipping their newly-purchased flat for a quick profit.
Needless to say, HDB flats are a lot more affordable than private housing options (i.e. condominiums and landed houses), but if you think they are dirt cheap, they are not. To give you a rough idea, I shall use my previous and current homes (both resale HDB flats) as examples.
Note: At the time of writing, all figures are based on an exchange rate of US$1 to S$1.37.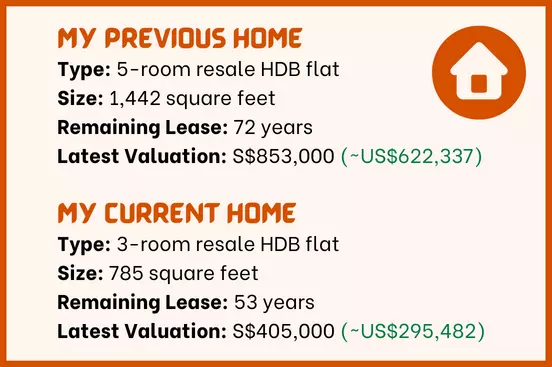 In the period between 1st January and 6th September 2023, 301 HDB flats changed hands for S$1 million or more.7 In August alone, a record number of 54 million-dollar flats were transacted, up from 32 units in July.8 Yep, you got that right — S$1 million for public housing with a leasehold of less than 94 years!
Now imagine the cost of private properties. As Singaporeans cannot concurrently own two HDB flats, a second residential property will have to be a private condominium or landed house. This means we have both homeowners and investors driving prices up.
Earlier on, I shared that Singapore's private homes are the most expensive in Asia-Pacific with a median price of US$1.2 million (~S$1,644,768). Frankly, if this were your budget and you have a typical family of four, your options are limited. You can still buy a 3-bedroom condominium unit (around 900 to 1,200 sqft) outside the central region, but it will be a rather old leasehold property.
Despite concerns over soaring mortgage rates and cooling measures* by the government, Singapore's property market remains hot. Case in point: in May this year, The Continuum, a new 816-unit freehold condominium in the eastern region set a new record high when its average selling price per square foot (psf) reached S$2,732 (~US$1,993). To be clear, this is NOT a luxury but mass-market condominium.
*As of April 2023, Singapore citizens who buy a second residential property will have to pay 20% in Additional Buyer's Stamp Duty (ABSD), 30% for the third. So if I buy a second property at S$2 million, I will be paying a whopping S$400,000 tax. Permanent residents and foreigners pay even more.
Is the market too hot to handle? I definitely think so. Why then are buyers still snapping up private properties like they cost peanuts?
Well, a lot has to do with history. Since its independence in 1965, Singapore has pulled off a dramatic transformation and achieved astounding economic success. The surge in home prices over the years has turned homeownership into a key wealth builder for Singaporeans, in particular the Boomers.
There's a deeply-held belief that property is a sure-win, especially since there's limited land here. This, coupled with the fear of being priced out, has led many to buy the "best" home they can possibly afford and invest in real estate if there's cash to spare.
As the standard of living goes up, expectations naturally increase too. Instead of public housing, it's many Singaporeans' dream to own and stay in a private property, the ultimate status symbol.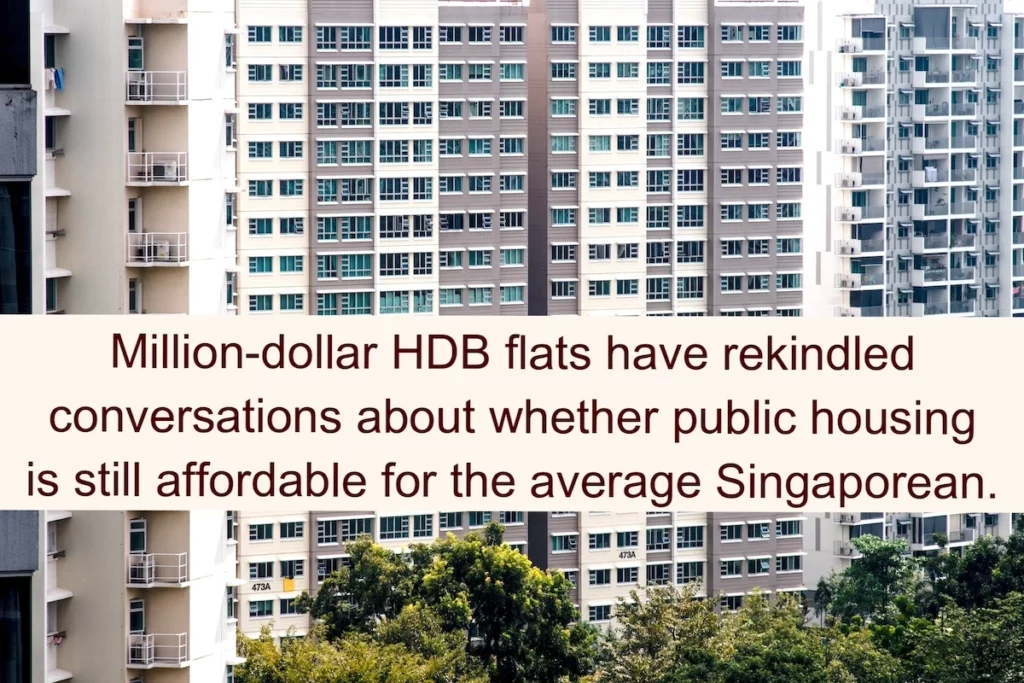 3. Our Approach to Homeownership
Mr Wow and I clearly do not share this dream. The first home we bought was a 5-room resale HDB flat. That was in 2001 when we got married. Years later, we downsized to a 3-room resale HDB flat (our current abode) and became mortgage-free.
Most people around us couldn't understand our decision to downsize. Conventional wisdom says that upgrading to a bigger, pricier home is the way to riches, so why did we go against it despite doing quite well financially? Here are our reasons:
1️⃣ A home is not just a roof over our heads. It's also a leveraged financial asset for the vast majority of people and leverage is a double-edged sword. What if we find ourselves in a financial tight spot one day and struggle to meet our mortgage obligations? As we both worked full-time in our business (one business income instead of two earned incomes), this was a major consideration for us. It's easy to forget that real estate is highly illiquid until we need to sell it urgently.
2️⃣ Unlike many Singaporeans, we don't see our home as "a great investment". In our book, a great investment should improve our cash flow, NOT take money out of our pockets every month. A home is an unproductive asset. No matter how confident one is about the market, banking on capital appreciation alone is a risky investment strategy. He may end up selling his property at a loss, all the while exposing himself to financing risk given that he has no control over interest rates.
A great investment should improve our cash flow, NOT take money out of our pockets every month.
3️⃣ The cost of owning a home does not end at the time of transaction. Long-term costs such as maintenance and repair must be factored in. For instance, one of Mr Wow's friends pays almost S$2,000 a month in maintenance fees for his high-end condominium. In contrast, we pay just S$47.50 for our 3-room HDB flat. That's a difference of S$1,952.50 per month or S$23,430 per year, which can be invested for regular passive income.
4️⃣ Due to the significant capital required, buying too much house may put our retirement at risk as we will have less means to build a diversified investment portfolio that could potentially give us higher returns. Many Singaporeans like to complain about the high cost of living and its impact on their retirement adequacy. But let's be honest here. Part of the reason is overconsumption of housing — a personal choice.
Singapore is now a mature economy. The property boom that benefited our parents is long over and we will probably never see that kind of spectacular price growth again. People do lose money in property, so perhaps it's time we see homeownership through a different lens.
In case you're wondering, we did consider buying an investment property (not for own stay) for rental income and diversification. Nevertheless, that wasn't an attractive proposition considering the steep prices and low yields.
A study by DBS, the largest bank in Southeast Asian by total assets, showed that from 2009 to 2021, buying a second property in Singapore yielded the lowest returns among a range of eight investment options.9
The S&P 500 yielded the best returns at S$635 for every S$100 invested, followed by Singapore Real Estate Investment Trusts (S-REITs) at S$486. A person's second property ranked last at just S$209 for every S$100 invested over the same period. High taxes applying to second properties was one of the factors that reduced the returns.
Like the rest of the economy, real estate is cyclical. Unless prices plunge and the 20% ABSD is substantially lowered or removed, you will not see us investing in a second property in Singapore.
Buying a second property in Singapore yielded the lowest returns among a range of eight investment options. (Study by DBS)
Check out: Beyond 9-5: Discover the 7 Income Streams for Lasting Wealth
So, after weighing our options, we made the decision to downsize our home in 2018, two years before our early retirement. By doing so, we not only crushed our mortgage without having to cough up a single cent, but also pocketed a modest profit after renovating our new home extensively. What's more, not having a mortgage gave us an extra S$1,300 per month to invest, which helped to accelerate our wealth accumulation phase.
A smaller home also means lower ongoing costs in terms of property tax, maintenance fees and utility bills. Best of all, cleaning is a breeze. Besides financial benefits, there are numerous lifestyle benefits of downsizing, but of course, the numbers must make sense.
Check out: Should You Pay Off Your Mortgage Early?
Mr Wow and I love our small HDB flat, but we understand that our approach may not work for everyone, e.g. larger families. Our only hope is that Singaporeans will exercise caution and not overuse leverage when purchasing their homes.
Always keep in mind that diversification is vital to your overall financial health. When your home takes up the lion's share of your net worth, it opens up to concentration risk.
In my next article, I'll be sharing some interesting information about the cost of transport and food in Singapore. Do stay tuned.
Check out: The Big Reveal: Our Net Worth Exposed
Sources: